The Brand
More than 50 years ago, in 1965, the first Autodrop candy was introduced in The Netherlands. Autodrop literally translates to 'car-liquorice'. Each piece of liquorice was wrapped in a paper with a funny fact. It was a fun-brand from the start and it only got better over the years.
Autodrop is the jester on the shelve. Pleasantly disturbing, irresistible and a bit cheeky. Where other brands are more serious about their products, Autodrop gets the sympathy of the buyer because of the quirky fun factor. Life may be celebrated! The brand's pay-off is "So good, it should be banned."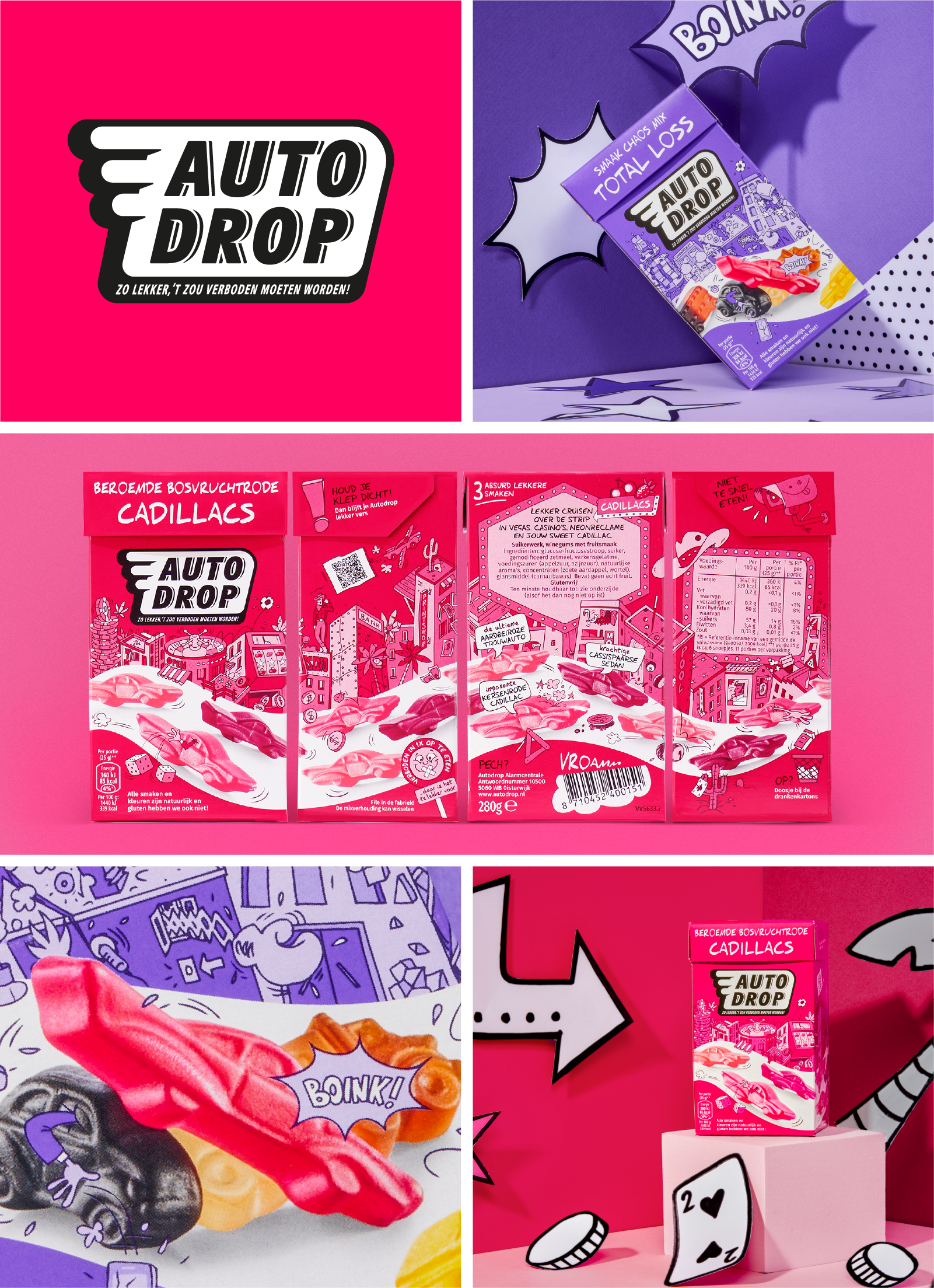 The Brief
The packaging had not really changed over the last 10 years. This made the brand quite recognisable, but also dated and somewhat predictable. And that while the brand is founded on excitement and surprise. Especially for the younger audience, which is the core of the consumers. The danger is for the brand to grow older with the target audience and lose contact with the youth. How can Autodrop stay young and relevant for teenagers and young adults?
The Result
First of all, we consciously chose to keep the characteristic flip top box. The box is unique and an important part of the brand recognition. It also makes it easy to use and stands up straight and proud on the shelf.
We have made a hero of the candy, by making it a character, brought it alive by placing it big and in 3D on the pack, which matches the 'jester' brand character. The candy cars drive on a road that works its way around the pack. The white road makes the candy stand out and creates appetite.
The candy is the centre of its own universe. An absurd world arises around the candy: toasted bread jumping out of buildings, flamingos, slot machines… Each flavour has its own theme and its own world. You can easily spend ten minutes discovering everything on the pack, including funny traffic related facts and jokes. This creates a unique interaction between consumer and packaging. You just can't help yourself turning it around over and over again. The pack does not have a backside: all sides are just as funny. All obligated texts are integrated in the illustrative world. The road does not only go infinite around the pack itself, it also creates a large road when all packs stand next to each other on the shelf. The logo was not to be changed, but, curious as we are, we did it anyway to create more shelf impact and powerful brand recognition.
The design is totally new but still recognisable for the existing Autodrop fans.
Autodrop is even more Autodrop than it ever was before!